Fathers Day is upon us once more and, just like in previous years, we at mostly books have a campaign to 'Buy Dad a Real Book!' Here are our picks of this year's great books, from murder mysteries to non fiction to books to share with children - and if you still don't see something for that extra special gift, just pop into the shop and we can try to weave some of our recommending magic!
The Cyclist Who Went Out in the Cold by Tim Moore
Tim Moore has become a popular travel writer, threatening Bill Bryson's mantel, taking on cycling routes that no-one else should tackle, but doing it with great spirit and writing about it with plenty of humour.
His latest venture is the 10,000km or so newly created (if not entirely finished) Iron Curtain cycling trail from Finnish Lapland to the Black Sea in Bulgaria. On a two-speed, slightly modified East German small-wheeled shopping bike not suitable for the road conditions.
Moore makes light of what might make other cyclists simply head for home, also effortlessly bringing in Russian and Finnish history and the demise of Communism as he struggles to find somewhere to buy basics, such as food to keep him going, particularly on an inappropriate bicycle.
Great company for a trip that even keen cycling Dads won't be keen to make themselves. Although it might make cycling to work seem a little easier.
Five Lose Dad in the Garden Centre
The latest in the spoof Enid Blyton series, George, Dick, Anne, Julian and Timmy are keen to show Uncle Quentin what a jolly good chap he is, so they decide to take to the local garden centre to chose a new garden shed in which to conduct his experiments.
But what promised to be a relaxed outing turns into a nightmare when Quentin disappears into thin air. He surely cannot have gone far ...
Visions of Numberland by Alex Bellos
There was a bit of a storm of colouring books for adults in recent years, but we'd really like to recommend this one because it is devilishly clever and genuinely eye-opening. It's all about understanding the beauty of maths and we think it's a proper work of art.
What does a sphere look like in four dimensions? How can a knight on a chessboard visit every square? And can a five-sided tile cover an infinite floor? 'Visions of Numberland' unlocks the world's greatest mathematical mysteries, with 60 patterns to colour in and 10 more that you can create from scratch. And with friendly explanations next to each pattern, you not only colour, but unlock the secrets of an aspect of maths – although you don't need to know any maths to do the colouring. Really different and inspired.
Worth Dying For by Tim Marshall
From the author of 'Prisoners of Geography' comes another fascinating book looking at the countries in our world through the prism of their flags.
When you see your nation's flag fluttering in the breeze, what do you feel? For thousands of years flags have represented our hopes and dreams. We wave them, we march under them. Sometimes we burn them, and some have died for them.
Flags fly at the UN, on the Arab street, from front porches in Texas to half-mast over government buildings when terror and disaster strike.
They represent the politics of high power as well as the politics of the mob.; From the renewed sense of nationalism in China, to troubled identities in Europe and the USA, to the terrifying rise of Islamic State, the world is a confusing place right now and we need to understand the symbols, old and new, that people are rallying round. In nine chapters (covering the USA, UK, Europe, Middle East, Asia, Africa, Latin America, international flags and flags of terror), Tim Marshall draws on more than twenty-five years of global reporting experience to reveal the histories, the power and the politics of the symbols that unite us - and divide us.
M: Maxwell Knight, MI5's Greatest Spymaster by Henry Hemming
Maxwell Knight was a paradox.

A

jazz obsessive and nature enthusiast (he is the author of the definitive work on how to look after a gorilla), he is seen today as one of MI5's greatest spymasters, a man who did more than any other to break up British fascism during the Second World War - in spite of having once belonged to the British Fascisti himself. He was known to his agents and colleagues simply as M, and was rumoured to be part of the inspiration for the character M in the James Bond series. Knight became a legendary spymaster despite an almost total lack of qualifications.





What set him apart from his peers was a mercurial ability to transform almost anyone into a fearless secret agent. He was the first in MI5 to grasp the potential of training female agents. M is about more than just one man however.





In its pages, Hemming reveals for the first time in print the names and stories of seven men and women recruited by Knight, on behalf of MI5, and then asked to infiltrate the most dangerous political organizations in Britain at that time. Until now, their identities have been kept secret outside MI5. Drawn from every walk of life, they led double lives-often at great personal cost-in order to protect the country they loved.
Following On: A Memoir of Teenage Obsession and Terrible Cricket by Emma John
This was a huge hit in the shop when it came out in hardback before Christmas. Cricket memories are ten a penny (and plenty get published ahead of Father's Day) but Emma John's painfully funny, original revisiting of her teenage cricket obsession is a modern-day classic, and - coincidentally - shines a light on modern sport, its pressures and the fan experience. Funny, honest and charmingly different.
Island Home by Tim Winton
From his childhood, Tim Winton's relationship with the landscape around him - Australia's swamps and bush, rockpools, seacaves and scrub - has been as vital as any other connection. Whether camping in hidden inlets, walking in the high rocky desert fringe, or diving at Ningaloo Reef, Winton has felt the place seep into him - its rhythms, its dangers, its strange sustenance. Island Home is the story of how that relationship with the landscape came to be.
Charged with love for the huge, besieging force of Australia's wild spaces, this book is a passionate call for their conservation, a memoir that urges us all to feel the ground beneath our feet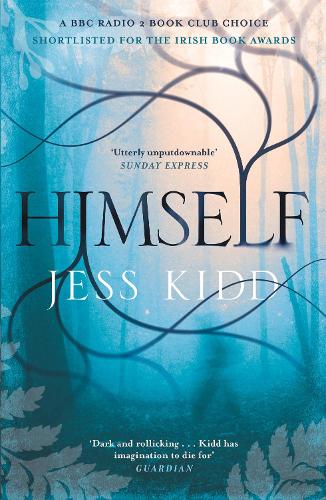 Himself by Jess Kidd
An entertaining and accomplished debut, and a fantastic twist on the whole "I see dead people" story archetype. It's part murder-mystery, part family secrets-laden Irish saga. Very very original with a beguiling array of characters - and you'll be unable to resist the charms of Mahony and his quest.
In 1950, a teenage girl is brutally murdered in a forest. But, somehow, her baby survives.



In 1976, a mysterious and charming young man returns to the remote coastal village of Mulderrig, seeking answers about the mother who, it was said, had abandoned him on the steps of a Dublin orphanage. With the help of its oldest and most eccentric inhabitant, he will force the village to give up its ghosts.

In fact,

some of the ghosts might give him a hand.
A brilliant debut by an exciting new voice in contemporary fiction - highly recommended.
Resolution by AN Wilson
AN Wilson's powerful new novel explores the life and times of one of the greatest British explorers, Captain Cook, and the golden age of Britain's period of expansion and exploration.

Wilson's protagonist, witness to Cook's brilliance and wisdom, is George Forster, who travelled with Cook as botanist on board the HMS Resolution, on Cook's second expedition to the southern hemisphere, and penned a famous account of the journey. Resolution moves back and forth across time, to depict Forster's time with Cook, and his extraordinary later life, which ended with his death in Paris, during the French Revolution. Wilson once again demonstrates his great powers as a master craftsman of the historical and the human in this richly evoked novel, which brings to life the real and the extraordinary, brilliantly drawing together a remarkable cast of characters in order to look at human endeavour, ingenuity and valour.
The Boy on the Bridge by MR Carey
The companion to one of Julia's favourite books, 'The Girl with all the Gifts', this book returns to a destroyed Britain, where Hungries roam looking for food. It follows a set of soldiers and scientists and a clever boy that people thought would save them all, as they open the gates of their community and go into the world of monsters.
A book that raises discussions about hope for the future: whether it's to be found in doggedly preserving what we have or in accepting change and development, even at the cost of enormous loss, and letting something new and different be born. That's the choice that, in different ways, the characters in 'The Boy on the Bridge' all face and again is a theme that resonates with classic SF in many respects.
I Hate The Internet by Jarett Kobek
This won't be everyone's taste, but if a grotesque, blackly-humorous satire on everything that is wrong about the Internet - from Facebook election ads to social media trolling - sounds like Dad's kind of book, then this brilliant debut by Turkish-American writer Jarett Kobek might fit the bill.

Ostensibly about Adeline - an artist who uses outrage to fuel sales - it's really a polemic about the nature of art and who benefits from the tons of free content we put out there for the giant corporations to monetize. Bit too near the knuckle...
Uncle Dysfunctional by AA Gill
The silver lining to AA Gill's untimely loss earlier this year has been some fantastic collections of his writing and journalism, and 'Uncle Dysfunctional' is a collection of his ham-fisted, un-PC yet surprisingly refreshing observations as advice columnist in 'Esquire' magazine. The response to Alex, who asks "I haven't read a book since I left uni in 1994, am I missing out?" is one of the most brilliant pieces of sustained writing about the nature of life and books that you could ever hope to read...
Alfie and Dad by Shirley Hughes
Join Alfie and Dad as they spend time together in this wonderful collection of stories from the award-winning Shirley Hughes. Alfie's dad is always there for Alfie and Annie Rose. He's there to reassure Alfie during a restless night; he's there to find Alfie's favourite toy Flumbo when he gets left on the bus; and most of all he loves spending time with his children and they love spending time with him! This book celebrates that special relationship between children and their dads.
Daddy's Sandwich by Pip Jones & Laura Hughes
If your youngest are planning to surprise Dad by making him a tasty treat on Father's Day, don't give them this book to get any ideas – at least not unless you feel that putting all Dad's favourite things in a sandwich (including his slippers) is a good idea. Simple, fun story with cute illustrations make this an irresistible book for sharing (much more appealing than a Daddy's Sandwich.